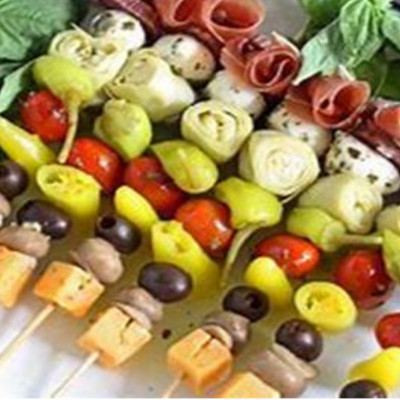 Healthy finger foods can be a great treat for any occasion. The preparation time for fruits and vegetables, in particular, can be done in minutes.
From simple finger foods such as fruit/vegetable kebabs to more time-consuming ones like Crispy Parmesan Brussels Sprouts bites, you will find great tips and recipes to suit your needs here.
Health experts agree that people should eat more fruits and vegetables. Fruits and vegetables are at the base of the food pyramid, which suggests that most of our food should come from this food group.
Healthy foods can strengthen your immune system and give it the strength to fight off attacks from antigens such as germs and bacteria. Finger foods can be delightful morsels of heavenly goodness.
They can help set a mood for a comfortable and engaging social experience. Whether you´re catching up with loved ones, friends, or co-workers, you can enjoy socializing without stress or worries.
Benefits of Fruits and Vegetables
Do you enjoy the colors of the rainbow? I don´t know about you, but I certainly do. The vibrant colors make me feel good. Just like the colorful rainbow, you can add color to your meals. I enjoy colorful meals. It´s like the colors sing to my heart.
Fruit and vegetable kebabs are cuts of fruits and vegetables that merge on a stick. They are easy to prepare and can be ready in a matter of minutes.
There are many benefits of fruit and vegetable kebabs:
nutritious yet delicious
good for your health
increases your fruit and vegetable intake
increases your fiber intake
low in calories (no need to feel guilty about over-eating)
Fruit/Vegetable kebabs
Rainbow Fruit Kebab
For this recipe, you can use as many fruits as your heart desires. Here are some fruit ideas.
Ingredients
Strawberries
Grapes (different colors)
Blueberries
Blackberries
Kiwi
Bananas
Apple
Pineapple
Cantaloupe
Raspberries
Tangerines
Directions
Cut fruits and place them on a large plate.
Slide the pieces of fruit onto skewers.
You can make a color scheme if you choose (red fruits first, then yellow, etc).
Place them nicely on a platter for everyone to enjoy.
Melon Kebabs
Ingredients
Watermelon
Cantaloupe
Honeydew
Cheese (optional)
Directions
Cut fruits into small wedges and place them on a plate.
Slide the pieces of fruit into skewers.
Place them neatly on a large plate.
Vegetable Kebabs Examples
Ingredients

Mini mushrooms (canned) Olives
Peppers
Jalapenos
Artichokes
Deli meat (sliced) optional
Directions
Slide the ingredients on skewers.
Place on a large plate.
Brussels sprouts, mini tomatoes, and mozzarella cheese
Directions
Cut steamed Brussels Sprouts in half.
Slide Brussels Sprouts, mini tomatoes, mozzarella, and the other half of the Brussels Sprouts.
Place skewers on a large plate.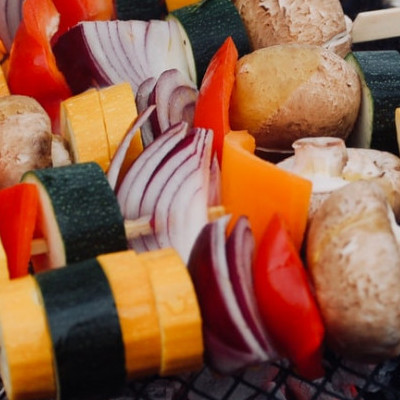 Grilled Vegetable Kebabs
Ingredients
Onions
Peppers
Zucchini
Mushrooms
Artichokes
Directions
Slide the ingredients into skewers.
Lightly spray grill with Pam.
Put the vegetable kebabs on the grill.
Turn the kebabs over.
Place the grilled kebabs on a large plate.
Additional Vegetable Hits
Stuffed Mini Peppers
Ingredients
16 mini sweet peppers cut in half lengthwise
2-3 packages of feta cheese
Seasonings
Diced onions
Directions
Mix feta cheese, seasonings, and diced onions in a small bowl into a nice paste.
Stuff the peppers with the paste.
Set on a large plate.
Guacamole Stuffed Mini Peppers
10-16 mini peppers
Guacamole (either homemade or store-bought)
Directions
Cut mini peppers in half lengthwise.
Stuff each pepper with guacamole filling.
Cucumber and sour cream cuts
Ingredients
2-4 cucumbers
Sour cream
2 tomatoes
Directions
Peel and cut cucumbers into ¾ pieces.
Put one teaspoon of sour cream on top of the cucumber piece.
Place one small tomato wedge on top of the sour cream.
Set on a large plate.
Garnish with fresh cilantro or parsley.
Vegetable Sticks with dip
Ingredients
8-10 celery stalks
8-10 carrots
6 or more asparagus
Directions
Cut ingredients lengthwise into stick pieces.
Place them on a large plate and add a small bowl of a dip of your choice.
Sweet Potato platters
Ingredients
Sweet potato (sliced and baked)
Salmon slices
Cream cheese
Cranberries
Directions
Cut sweet potato into circular slices and bake in the oven at 275 degrees for 20-35 minutes.
Remove from the oven and place on a rack to cool off.
Place cream cheese on the sweet potato.
Add cream cheese and top with cranberries.
Place on a large plate.
Crispy Turkey Bacon Wrapped Brussels Sprouts
Ingredients
1 pound Brussels Sprouts, trimmed and halved.
2 6 -ounce packages of bacon
Chopped chives for serving
Salt and pepper to taste
Directions
Preheat the oven to 400 degrees F.
Season the Brussels Sprout with salt and pepper.
Cut down the length of each slice of bacon in half.
Securely wrap each Sprout in a bacon strip and place seam side down on a foil-lined baking sheet, season with pepper.
Bake until bacon is crisp and Brussels Sprouts are browning, 30-40 minutes.
Crispy Parmesan Brussels Sprout Bites
Ingredients
½ cup all-purpose flour
1 teaspoon salt
½ teaspoon freshly ground black pepper
1 teaspoon garlic powder
pinch of cayenne pepper
2 large eggs
1 cup bread crumbs
½ cup grated Parmesan cheese
2 Tablespoons unsalted butter, melted
1 pound Brussels Sprouts, cleaned and trimmed
1/3 cup mayonnaise
1 Tablespoon mustard
1 lemon halved
chopped fresh chives for garnish
Directions
1) Preheat the oven to 400 degrees. Line a baking sheet with parchment paper.
2) Set out 3 shallow bowls. Stir together flour, salt, pepper, garlic powder, and cayenne in one bowl.
3) Whisk eggs well to combine.
4) Mix the Parmesan and melted butter.
5) Place the Brussels sprouts first in the flour mixture, then in the egg batter, and lastly, in the breadcrumb mixture, tossing well to coat well.
6) Transfer the Brussels sprouts to the baking sheet and spread them in an even layer.
7) Bake until the Brussels sprouts are golden brown, tossing over occasionally, 20-25 minutes.
8) Whisk together mayonnaise, mustard, and juice from half a lemon. Cut the remaining lemon half into wedges.
9) Garnish the Brussels sprouts with lemon wedges and chives. Then serve.
Other Simple Ideas
Deviled eggs with corn
Tomato Bruschetta
Vegetable quesadillas
Cucumber stuffed rolls
Pineapple prosciutto tarts
Conclusion
Healthy finger foods are versatile. You can mix as many fruits and vegetables as you like. Not only are they tasty, but they are also good for you. Fruit and vegetable kebabs are easy and a hit with most diets, especially vegans and vegetarians.
Healthy meals can be easy to plan and prepare. You can eat to your heart´s content without feelings of guilt about over-eating.
Go ahead and whip up some quick and yummy healthy finger foods now!
What are the health benefits of nuts? | Elevate Healthy Lifestyle Choices
Healthy Breakfast Ideas | Elevate Healthy Lifestyle Choices
Can diseases be prevented by a healthy lifestyle? | Elevate Healthy Lifestyle Choices