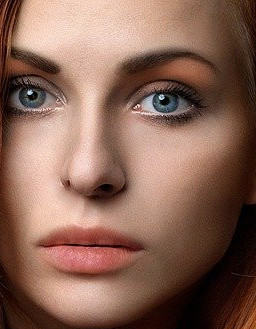 What do the sun, hormones, genetics, acne, and age all have in common? Yes, that´s right! They can rob your skin of remaining flawless, beautiful, youthful, radiant, and firm.
Suffering from skin conditions such as rosacea, psoriasis, eczema, age spots, fine lines, wrinkles, and scars can be traumatizing, and that can chip away at your self-esteem.
This article takes a closer look at healthy skincare product options for your needs. How to improve your skin with supplements and which ones to choose from.
The Pressure
Hollywood stars are under constant pressure to look their utmost best. The demand is to be beautiful, youthful, and thin. Many people look up to the stars as role models. But, these Hollywood expectations very often creep into our homes and mindsets.
Unfortunately, we live in the Selfie & Social Media Era. This adds even more pressure on us to look our best. The sad truth is that many teenage girls from the ages of 13-19 years are under the spell of the latest influencers.
Interesting facts
The global scar treatment market expects to reach an astounding 35 billion US dollars in revenue by 2023
.
Non-surgical treatments like Botox and fillers for women under 30 years have grown to 32%.
72% of surgeons said that they treated patients who wanted to improve their appearance for the purpose of taking selfies
.
Botox is one of the most popular non-surgical cosmetic treatments.
Dr. Jean Carruthers (Vancouver, Canada) was the first doctor who started Botox procedures in 1995
.
Botox procedures' costs range from $300-$1000.
Scars can affect your self-confidence.
Stretch marks can develop anywhere on your body.
Men can get stress marks, too (especially bodybuilders).
Weight loss does not get rid of stretch marks.
Stretch marks do not go away with time and without treatments. You have to treat them.
Stress mark-prone areas are the breast/chest, upper arms, stomach, buttocks, thighs, and legs.
The Problem
Acne is not the only problem.
As we age, our skin may experience some undesired conditions, such as wrinkles, hyperpigmentation, stretch marks, fine lines, crow´s feet, and scars resulting from accidents, burns, and injuries
.
Also, many of us had to deal with/are still dealing with acne in the puberty phase and even now in adulthood. I must admit that I was very lucky during my teenage years. I only had 1 pimple for a couple of years.
Things did change a little later on though. I did not have too many pimples, but the few I had were huge and in the most undesirable places. Sometimes near the outside of my nostril or on the tip of my nose. I looked like Rudolph! I hated that!
Unfortunately, I saw the acne struggles of many friends and family members. Their yearbook pictures were with acne-filled faces. The torture! I remember some of my classmates had horrible scarring back then. If I only knew back then what I know now. I could have helped them avoid a lot of misery, by sharing the valuable information I know now.
Dealing with skin imperfections is not easy. It can pose many challenges especially if they are in areas where you can´t hide them. And if they are in hard-to-see areas, more likely than not, you may still feel self-conscious about it.
Skin imperfections can take their toll on your
mental
health. I
f you let them and can increase your risk for
depression.
Do you want clear, radiant skin? Are you tired of putting a bandaid on the symptoms and ready to get to the root of the problem? Perhaps you´ve already seen a dermatologist and received a prescription, but things did not go as anticipated. Did your problems seem to get worse after using the prescription? Not everybody reacts to medication positively.
This post contains affiliate links. f you click on our links, we may earn a small commission at no additional charge to you. Thank you for your support!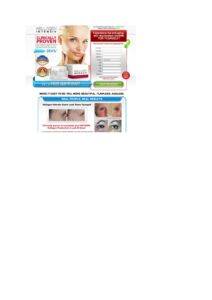 No one can blame you if you feel like you´re at your witts end and are ready to give up. But before you go down that road of hopelessness, please remember that you are not alone. Your struggles are real!!! Many have walked down this path before you and got through it, and you will, too!
If you find that your skin´s going back to square one or getting worse, it´s time to try something new. Remember, the definition of insanity is doing the same thing repeatedly and expecting a different result.
Possible Solutions
The good news is that it is not too late to rejuvenate your skin.
It is possible to improve your skin´s natural beauty regardless of your age and the condition of your skin
. There are many solutions out there for whatever skin care needs you may have. Help is within your reach.
Skinception by Dr. Dave David is a skincare line of anti-aging skin and body products.
Skinception products are the next generation of anti-aging products. The products came from clinical labs after much dedication to perfect them. They provide solutions for a wide range of problems from stretch marks to loose skin.
Dr. David is a respected physician and has made many guest appearances on various talk shows and on CNN. He is the founder of Medical Face and Body Aesthetic in Boston, Massachusetts.
All of Skinception´s products contain powerful peptides and ingredients that support skin regeneration and cellular renewal; the answer to youthful-looking skin at any age
. It is an appealing alternative to advanced aesthetic procedures (surgical-face-lift, or non-surgical-Botox).
Not everyone is the perfect candidate for surgery, and some people choose not to have surgery for personal reasons, for those people, Skinception may be a great solution.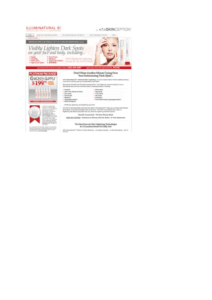 Illuminatural 6i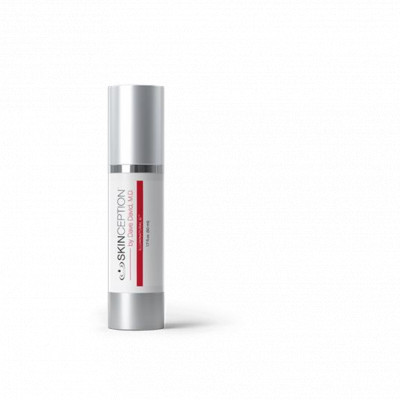 Iluminatural 6i is claimed to be an advanced skin lightener, which includes the latest and best development on the skin whitening market to noticeably lighten and brighten your skin. This formula is derived from 8 natural plant extracts and 5 refined minerals.
Benefits
Some benefits include:
can fade dark spots
can even skin tone
slows down, interrupts, and reduces the production of melanin and pigmentation (the culprits for dark spots)
encourages new, lighter skin cells to rise to the surface
sheds dead, pigmented cells for faster lightening
protects skin by blocking UV rays with organic, plant-based sun filters
contains no synthetic hydroquinone, mercury, steroids, or bleach
Directions
Use 2x a day. It is possible to see results within 4 weeks with optimal results after 2 months. Results may vary from person to person.
How much does it cost?
1 month-supply $49.95
3 month-supply was $149.85; save $19.90 now $$129.95
Pros
All-natural anti-agent products, there is no need for Botox or expensive procedures
100% Moneyback guarantee for 67 days
Cons
Can be pricey however, you can save when buying in bulk, and the cost is still cheaper than some Botox procedures.
Recommend: Yes
Are you tired of dull unattractive skin? Do you want vibrant, glowing, and radiant skin?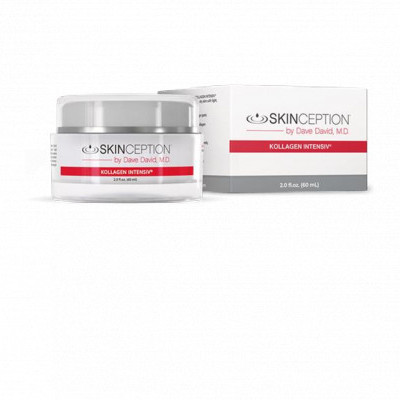 This face cream claims it´s clinically proven to reduce the appearance of wrinkles by 354%. Kollagen Intensiv can fill in fine lines, diminish crow´s feet, minimizes dark circles, and can provide an even skin tone.
Kollagen Intensiv is a nourishing anti-aging cream and daily moisturizer which works with your body´s natural ability to accelerate your skin´s renewal process on the cellular level by stimulating the natural production of collagen.
It can keep skin youthful-looking, firm, and radiant. Kollagen Intensiv may improve elasticity and flexibility while promoting higher levels of moisture retention on the cellular level for a more youthful appearance.
It is not a combination cream, as it targets wrinkles, so you don´t need multiple expensive creams for the night, day, under the eye, etc.
Ingredients: It´s made with the highest grade of collagen-stimulating and skin-rejuvenating vitamins, peptides, anti-oxidants, fatty acids, trace minerals, essential oils, and enzymes.
Benefits of Kollagen Intensiv
can boost your natural moisturizing factor (NMF) and lock in moisture to keep your skin looking healthy and youthful
reduces photoaging caused by sun damage
includes various ingredients to protect against UV damage and repair skin from pre-existing photoaging
can protect against photoaging
protects against wrinkles
helps skin retain its elasticity
reduces dark under-eye circles, puffiness, and crows feet
can help to take years off your eyes by firming and plumping skin
can increase your skin´s natural production of collagen
can reduce the appearance of even the deepest lines and wrinkles
can firm and tone the skin for a more youthful appearance
can help repair the damage, including age spots and sun damage
works to nourish, help repair, and rejuvenate the skin naturally
How much does it cost?
1 month supply for $59.95 plus 2 bonus gifts
3 month- supply Regular price $179.85 now $154.95 plus 3 bonus gifts
Directions
Use 2x daily for 84 days, however, results can be seen within 4 weeks. For optimal results, use for 84 days is recommended. Your skin sheds off every 28 days, and new skin comes in.
Kollagen Intensiv has been used for many years in the Entertainment Industry. Would you like to have the stunning results of the stars? Hollywood´s secret is out. Discover Kollegen Intensiv for yourself today. Check out the link below for more information.
Pros
Uses natural ingredients to stimulate your body´s collagen production naturally.
No need for costly surgery or Botox.
There is a 67-day Money-back guarantee
Cons
Maybe a bit pricey, but if you consider the cost of surgery or Botox, it is cheaper.
Recommend: Yes
There is a 67-day Money-back guarantee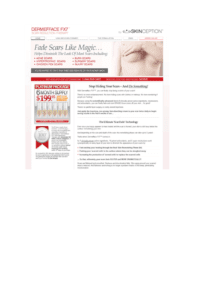 Tired of hiding your scars? Running out of creative ideas for hiding your scars? Now you don´t have to.
With Dermefface FX7, you can stop being a victim of your scars and turn the table. You don´t have to be embarrassed or hide your scars anymore. Dermefface is a scientifically advanced blend of clinically proven active ingredients, moisturizers, and antioxidants.
Claims to diminish the look of scars:
acne
chickenpox
injury
burn
accident
Dermefface also claims that you can finally fade and lessen the presence of your scars. There is no need for painful laser surgery-nasty side effects or costly steroid injections.
This is a non-greasy, fast-absorbing cream, which you apply to your scar twice a day. You can start applying as soon as your wound is healed and dry.
The sooner you start the application the better and more noticeable the reduction of permanent scarring will be.
Benefits
accelerates healing on every layer of skin (epidermis, dermis, and subcutaneous tissue)
promotes regrowth of healthy, normal skin
increased production of Type 1 and Type III collagen
can increase the turnover of skin cells
can help to normalize the skin´s production of collagen in scarred areas
can give scars an erasing effect
Scars occur as a result of over/under-production of collagen. Your skin forms new skin every 28 days.
Depending on the size and depth of the scar, the remodeling phase can take up to 2 years. (Even though your scar is healed, your skin is still actively working below the surface to remodel your skin).
If your skin does not produce enough collagen in a scar site, the skin will be weak and vulnerable to re-injury.
How does it work?
It works on every layer of your skin to diminish the appearance of scars by:
speeding up your healing through the final skin remodeling phase (IV)
pushes `scarred cells to the surface where they can be cast out
increases the production of normal cells to replace scarred cells
fades redness/discoloration
reduces flakiness and itching
It is possible to see results within the first 4 weeks however, for best results, it is recommended that you use it for 60 days. For minor scars, 3-4 months would be appropriate, and for severe scars involving surgeries or injuries, at least 6 months.
Does your skin have a mixture of old and new scars because you´ve been struggling with acne for years? Perhaps you thought or were told as a teenager that the problem would go away, but as you grew older, the situation grew worse.
Perhaps, you feel isolated on your journey because no one in your circle is going through what you are going through. Maybe you feel misunderstood? But there are many others like you out there.
Some even have worse conditions than yours. It is not uncommon for some people to get horrible outbreaks of cystic pimples, not only on their faces but also on their bodies. And the purging stage is worse for some others. These can make matters worse for your self-esteem and make you more self-conscious.
Did discoid, atrophic, or hypertrophic scars attack you with full-blown force and have left you with battle scars to prove it? Are you embarrassed by scars dating back from a dark place in your distant past?
If you are in a better place now and are hoping to lessen the appearance of those scars; then perhaps Dermefface may be the answer to your prayer.
Your struggles are real, and your pain is relevant! Since you are seeking a solution to your problems, you are a fighter. Give yourself a fighting chance by learning more about Dermefface and take the 1st step to finally having healthy skin.
How much does it cost?
1-month supply $59.95
3-month supply was $229.75, save $99.80 now $129.95
Pros
Uses natural ingredients to erase scars.
No need for painful laser surgery.
Cons
Depending on the size and severity of scars may take a long time, and results aren´t instantaneous.
Recommend: Yes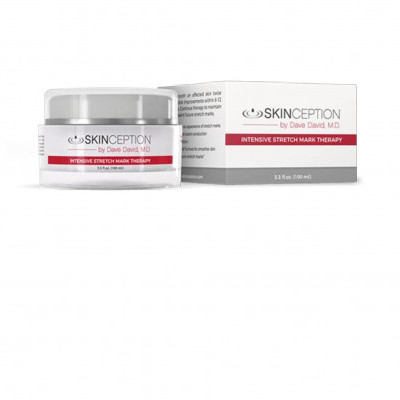 Stretchmarks are scarring on the skin in an off-color hue. They may diminish over time but not completely go away. The areas most vulnerable to stress marks are the breasts/ chest, thighs, stomach, buttocks, upper arms, and back of the legs.
Skinception claims that Intensive Stretchmark Therapy is clinically proven to reduce the appearance of stretch marks by up to 72.5% after only 2 months of use. They claim that not only does this product allow you to say goodbye to stretch marks but to take action to prevent future stretch marks before they happen.
Glucocorticoids are hormones present in your body in abundance and released during adolescence, weight changes, and pregnancy. This hormone prevents your skin from creating collagen/elastin for healthy tight skin. Your skin gets stressed and damaged, resulting in stretch marks.
Benefits
can help to repair skin
may prevent future damage
can fade purple and red discoloration
evens skin tone
smoothes furrow
How does it work?
Skinception claims that their Intensive Stretch Mark Therapy has been formulated with a series of clinically proven active ingredients that can boost your natural production of both collagen and elastin where ever it's applied!
And this increase in the production of collagen and elastin brings balance to the dermal matrix and allows your skin to begin healing.
How much does it cost?
1-month supply Regular price $79.95 save $30 now only $49.95
3-month supply Regular price $239.95 save $99 now only $139.95
Pros
Natural products that stimulate natural collagen production.
No need for expensive laser surgery
Cons
No instantaneous results. Results may vary from person to person, however, you may see results after 2 months of use.
Recommend: Yes
Conclusion
Skin imperfections can happen to anyone at any point in their lifetime. Dealing with skin imperfections can chip away at your self-esteem. The good news is that there is always hope and a list of solutions.
We hope this healthy anti-aging skincare product review for skin imperfections has been helpful to you. Do you want glowing skin, fewer acne problems, and a better social life? Check out my top pick.
You may like
How can you make your skin glow? | Elevate Healthy Lifestyle Choices
Natural tips for healthy skin | Elevate Healthy Lifestyle Choices
Supplements for healthy skin | Elevate Healthy Lifestyle Choices
How do you get rid of wrinkles and other skin imperfections?